Valentine's Books for Creative Writing
The days surrounding Valentine's Day are such a wonderful time of year to practice words of affirmation with children and to reestablish an atmosphere of love and kindness in their midst.  These five books are wonderful to read throughout the year, but are especially great to use as Valentine's books for creative writing.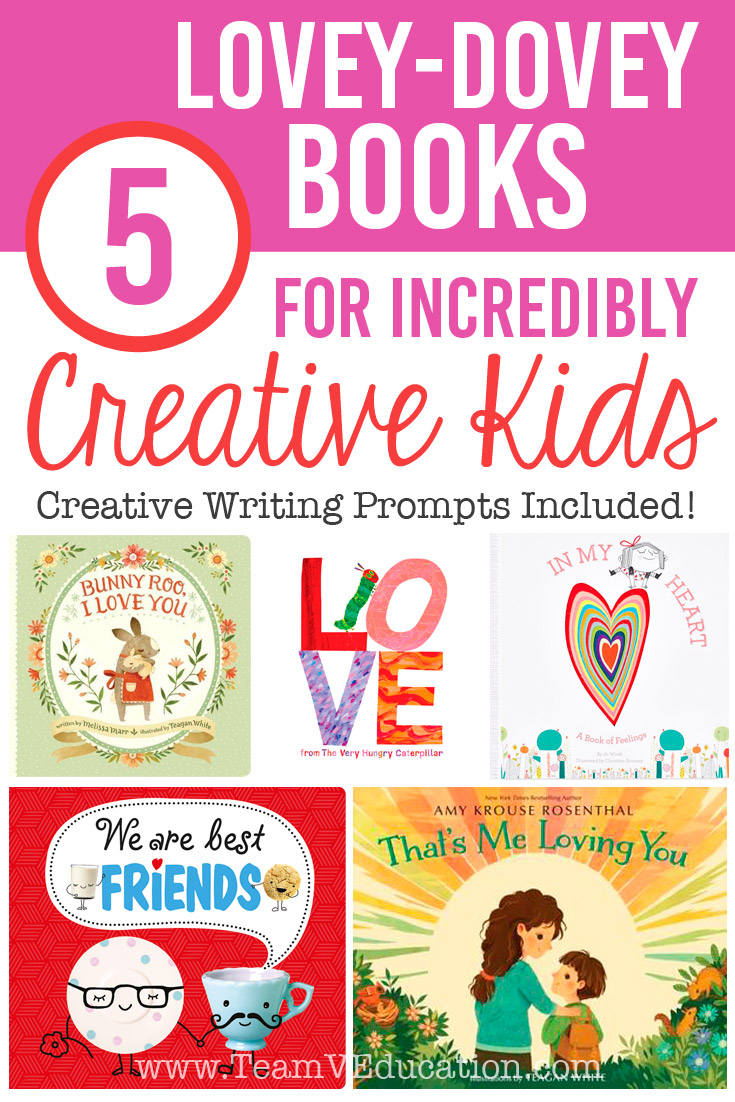 This post contains affiliate links. Thank you for supporting Team V Education!
I sought out to find stories that are beautifully illustrated and that provide an excellent framework from which children can develop creativity in their thinking and writing.
Use these writing prompts around Valentine's Day to encourage children to think of creative ways to express love and kindness.  
Each story touches on a different style of writing.  You will find opportunities to practice using idioms, simple poetry, elements of nature, similes, and metaphors.
Read on for "Team V's Top Picks" Valentine's Day Edition 2017!
Related: 14 Brilliant Books to Inspire Creativity
Valentine's Books for Creative Writing
1.  Love from The Very Hungry Caterpillar
by Eric Carle
"You make…the stars sparkle."
This simple little book boasts the same beautiful illustrations as Eric Carle's other work. Follow the Very Hungry Caterpillar through several pages of loving expressions, including adorable love idioms.  (Note: This is not a story with a developed plot, but rather a beautiful collection of phrases that express love and affection).
Writing Prompt:
How do you express your love? Using elements from nature and/or relevant idioms such as "you are the apple of my eye," create a collection of loving phrases that could be shared with someone special.
by Melissa Marr & Teagan White
"When I tried to put you down, you kicked and squirmed, and I thought you might be a lost kangaroo."
"Bunny Roo, I Love You" is a great story of a mother responding to the actions of her child. The metaphors in this book are wonderfully descriptive, demonstrating the beautiful love and care mothers take to ensure their little ones are safe. The vintage-style images of various animals caring for their young are the icing on the cake!
Writing Prompt:
How else might you describe a baby and his or her needs? Choose an animal that reflects this characteristic and portray through words the loving actions that this (animal) mother would take to care for her young. How would a mama respond to her young?
3.  In My Heart: A Book of Feelings
by Jo Witek & Christine Roussey
"When it's time for a bit of fun, my heart feels full of giggles and wiggles. Abracadabra! I hop around like a bouncy bunny. This is when my heart is silly."
Our hearts are able to feel so many different emotions: happy, sad, angry, silly, and more! "In My Heart: A Book of Feelings" provides youngsters the words to express and feel these big emotions. The similes used to describe these feelings open up creative minds to explore for themselves what it is truly like to experience their feelings. For example, "some days my heart feels as heavy as an elephant." This story of love and emotion is a winner for sure!
Writing Prompt:
Choose a big emotion. Using similes and other descriptive words, describe what your heart is feeling and how it expresses that feeling. How does this emotion move and take shape in a physical way? Bring this emotion to life!
by Amy Krouse Rosenthal & Teagan White
"That soft breeze, that's me kissing you."
Nature comes to life in this amazing story of love. Author Amy Krouse Rosenthal uses beautiful elements of nature such as butterflies and pouring rain to demonstrate expressions of love and kindness. Each element becomes a metaphor of the mother's love: hugging, missing, kissing, etc. It is easy to see the love of nature through her words.
Writing Prompt:
How does nature show your love? If an ocean can wave and a persistent mosquito can bug…what else can nature do to express its love to those you care about? Share several examples of nature becoming an act of love and kindness.
by Roger Priddy
"Paper said to Pen: 'You are very clever. I know that our friendship will last forever!'"
Objects are best friends? Of course! Roger Priddy uses everyday objects that 'belong together' as the foundation for these adorable rhyming poems. Milk and cookies, cup and saucer, paper and pen, they all are best friends and they have wonderful things to say to one another! This is a fun book that is sure to make you smile.
Writing Prompt:
Brainstorm other objects that are simply best friends! Create simple two-line poems of one object expressing affection toward and/or praising the other object. Simply, what would these best friends say to one another?
Encourage Creativity
In all that you do, reading, writing, play, and life, simply encourage creativity.
Sing made-up-on-the-spot songs for your children.  Express love through poetry and little one-line ditties.  Share with your children and students how your love and kindness is special!
If you try the writing prompts above, we would love to hear about it!  Either share in the comments below, or connect with us via Facebook or Twitter.
Team V is all about creativity and keeping active.  Spread the (Valentine's) love!