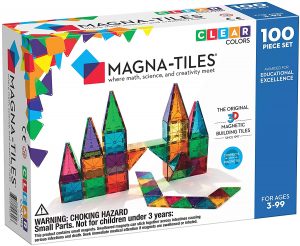 Magna-Tiles are the ONE toy in our home that is played with every single day. Our children integrate these blocks with their Lego, Playmobil, stuffed animals, and more. The magnets are easy to connect and often stand on their own, allowing for even our youngest children to build with ease! Additionally, we've seen great success in sorting (by colour and shape), problem solving to create large structures, and teamwork amongst our children.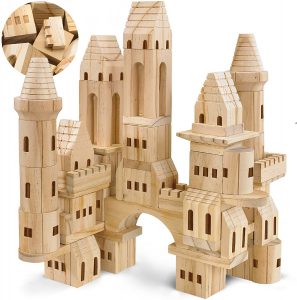 Our children have enjoyed the simplicity of these wooden castle blocks so much, that we now have two sets! Imaginary play with knights and princesses abound in our home, and the neutral style of these blocks make them easy on mom and dad's eyes (even if left sitting about for days on end). This particular set is our favourite; however, many other castle block options exist. Check them out to find your own favourite!
These clear rainbow window blocks by Guidecraft are a fun addition for building together with other wooden blocks. The Team V kids enjoy hiding animals on the 'window ledges.' Great for use with learning colour recognition, colour mixing, and more, these simple wooden blocks are a fun toy for all.