20 Verses That Parents Need to Memorize NOW
Yesterday was a TOUGH day.
You know the kind.
Where it seems that every single moment is filled with at least one child whining, crying, or screaming.
That day where honest-to-goodness you want to throw in the towel, lock yourself in your room, curl into the fetal position, and take a nap!
That day when you surrender and make yourself not just one homemade hot chocolate, but two, even though you know your belly will ache hours later because dairy just isn't sitting well this pregnancy. But you MUST have that hot chocolate NOW (or coffee, or whatever it may be!).
That day where a text to your husband begins like this: "I need prayer. LOTS OF IT. TERRIBLE TERRIBLE TERRIBLE TERRIBLE TERRIBLE TERRIBLE TERRIBLE TERRIBLE TERRIBLE MORNING. TERRIBLE…"
Notice how I used "terrible" ten times? TEN.
That was the sort of morning we shared. A combination of several restless nights, too many sugary treats, a busy schedule, and no vehicle to escape the craziness, created an environment that was bound to explode.
And it did.
Explode.
It was "terrible."
The most terrible part however, was that I did not claim my day for Christ.
I, the dear mama who endured all this screaming, desperately crying out for patience, did not surrender my day, those moments to the One who redeems it all.
Through my own human efforts I was able to hold it together quite well. A few overwhelmed texts to hubby at work, a short morning Quiet Time for all parties involved, followed by snacks and colouring on the back deck, and we were able to find peace again.
But what if there was an easier way?
What if we could stop the chaos in its tracks? Before it spirals out of control.
THERE IS.
Dear friends, we need the Word of the Lord in our hearts and minds in order to proclaim them ALOUD in those desperate moments when all feels lost.
I find that the enemy likes to sit quiet and wait for these days when I feel ready to burst.
After all, "The thief comes only to steal and kill and destroy…" (John 10:10a)
He is STEALING our joy!
He is KILLING our learning momentum!
He is DESTROYING our best plans for the day!
But the TRUTH is that Christ has "come that [we] may have life, and have it to the full." (John 10:10b)
YES!
And THAT is why we need to arm ourselves with the Truth.
That is why myself, and every other parent who desires to raise their children for the Lord, needs to be armed with Scripture, ready to be proclaimed in our darkest parenting moments.
These 20 verses will fill your life with Truth and when taken to heart, will arm you with the tools needed to take back your day and rise victorious above the chaos.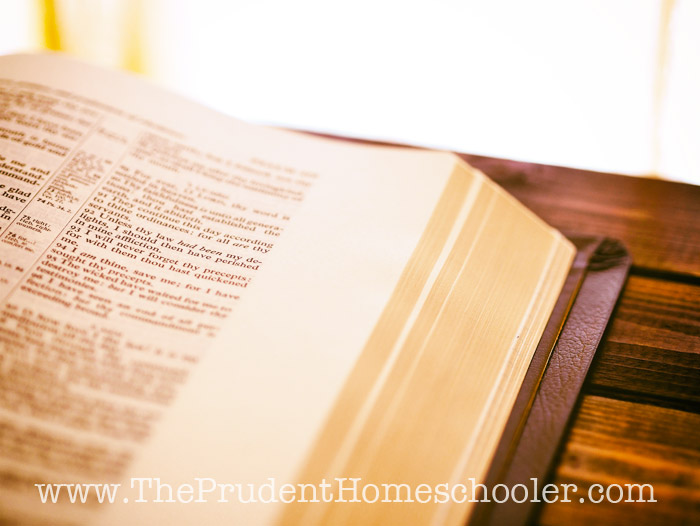 PROCLAIM VICTORY
You must first proclaim your standing in Christ, thus squashing the power of the enemy.
"The thief comes only to steal and kill and destroy; I have come that they may have life, and have it to the full." (John 10:10)
"No weapon forged against you will prevail, and you will refute every tongue that accuses you." (Isaiah 54:17a)
WELCOME PEACE
Rest in the Truth that Christ is for you and freely offers you HIS peace in times of trouble.
"You will keep in perfect peace those whose minds are steadfast, because they trust in you." (Isaiah 26:3)
"Peace I leave with you; my peace I give you. I do not give to you as the world gives. Do not let your hearts be troubled and do not be afraid." (John 14:27)
"The God of peace will soon crush Satan under your feet. The grace of our Lord Jesus be with you." (Romans 16:20)
"I have told you these things, so that in me you may have peace. In this world you will have trouble. But take heart! I have overcome the world." (John 16:33)
STAND YOUR GROUND
Declare that Christ is powerful over your situation.
"Stand firm, and you will win life." (Luke 21:19)
"But he said to me, 'My grace is sufficient for you, for my power is made perfect in weakness.' Therefore I will boast all the more gladly about my weaknesses, so that Christ's power may rest on me." (2 Corinthians 12:9)
"Therefore God exalted him to the highest place and gave him the name that is above every name, that at the name of Jesus every knee should bow, in heaven and on earth and under the earth." (Philippians 2:9-10)
HOLD YOUR TONGUE
Breathe life into your situation, rather than death. Remember that your words hold power over your children (and over yourself).
"May these words of my mouth and this meditation of my heart be pleasing in your sight, Lord, my Rock and my Redeemer." (Psalm 19:14)
"Set a guard over my mouth, Lord; keep watch over the door of my lips." (Psalm 141:3)
"Gracious words are a honeycomb, sweet to the soul and healing to the bones." (Proverb 16:24)
"A gentle answer turns away wrath, but a harsh word stirs up anger." (Proverbs 15:1)
"The soothing tongue is a tree of life, but a perverse tongue crushes the spirit." (Proverbs 15:4)
CHOOSE STRENGTH AND COURAGE
In Christ we are strong and able to overcome. When the entire day feels as though it is ruined, Christ is able to redeem your situation and bring about peace.
"He gives strength to the weary and increases the power of the weak." (Isaiah 40:29)
"You, dear children, are from God and have overcome them, because the one who is in you is greater than the one who is in the world." (1 John 4:4)
"Be on your guard; stand firm in the faith; be courageous; be strong." (1 Corinthians 16:13)
"Trust in the Lord with all your heart and lean not on your own understanding; in all your ways submit to him, and he will make your paths straight." (Proverbs 3:5-6)
ACCEPT FORGIVENESS
If any regretful words have been spoken, remember that you are already forgiven in Christ. When peace descends upon your home again, return to Him, together with your children, and simply thank Him for His forgiveness and salvation!
"For as high as the heavens are above the earth, so great is his love for those who fear him; as far as the east is from the west, so far has he removed our transgressions from us." (Psalm 103:11-12)
"I have swept away your offenses like a cloud, your sins like the morning mist. Return to me, for I have redeemed you." (Isaiah 44:22)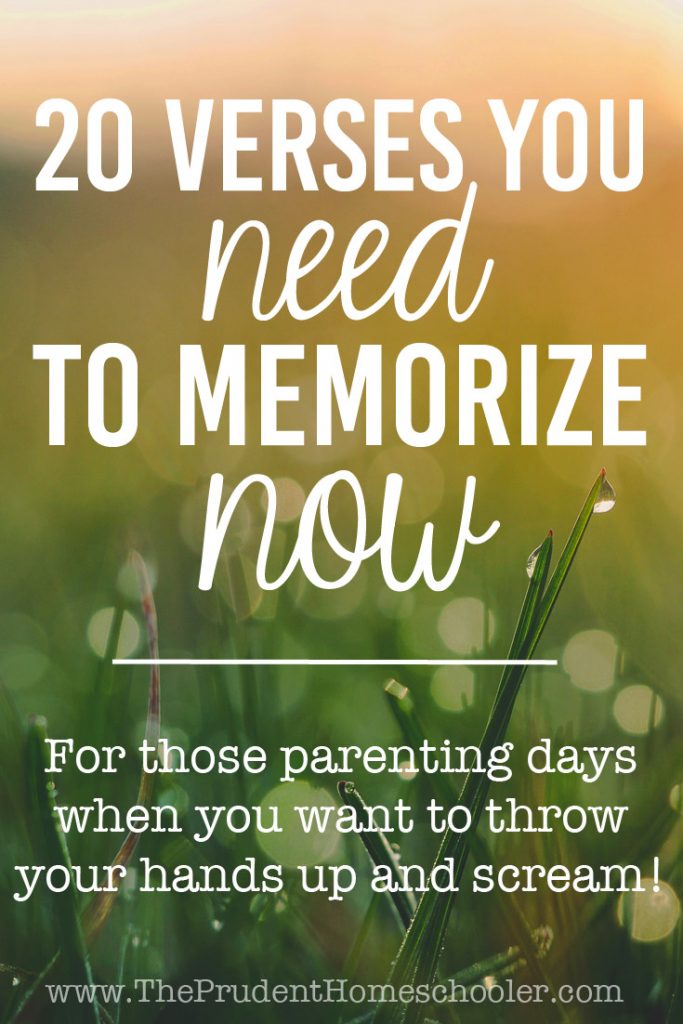 On your most difficult days:
Proclaim Victory!
Welcome Peace
Stand Your Ground
Hold Your Tongue
Choose Strength and Courage
Accept Forgiveness
Commit these 20 verses to memory to support you on those parenting days when you want to throw your hands up and scream!
Now it's your turn.
Have you committed certain verses to memory?  How do gain strength and courage through the Word?
Share this post with others, and comment below with your own ideas!